I'm telling you, sleeping isn't a necessity.
SERIOUSLY.
Okay,before you start to speculate
how 'stupid and shallow minded I am by posting such a overwhelmingly arguable statement so confidently thus giving you a lifelong shitty impression'
of me
,
I'm going to present you
The Disclaimer™
Original picture taken from
icanhascheezburger.files.wordpress.com
The Disclaimer - Get a break, obviously I don't actually mean what I said. Give me the same statement to argue with a purpose and I might side the opposite any other day . I'm saying that now just for fun, and also to spark some disagreement for sheer entertainment purposes.
. . .


Alright. Back to the post.
So. Sleeping is mandatory but it isn't a necessity. Humans needs to sleep eventually, but I'm convinced we do not need to have it on a regular as part of our boring routine. Sleep when you have time, yes ; found time and sleep, yes ; make time to sleep , not really.
Lately I've been sleeping at funny odd hours as part of my routine, around 6am on average. Since I take sleeping seriously and treat it like a past time, it's no surprise I find myself waking up at 3pm sometimes.
Well there's almost absolutely nothing wrong with that, UNTIL , you be called upon to meet up with other people living their life of a normal sleep time( only applicable when they wants to meet you in the morning and in your own terms, their morning = your night = time to sleep , and a 'Sorry Boss, Can't Do It' just ain't an option either)
A typical "

Sorry boss, can't do it

" situation
Take myself for example. Everything is fine in
the

Screwedupsleepingtime

(Season 1)
world of mine,
until
my group mates suddenly expects me to meet them in the following morning for some group meet-up.
I gotta admit maybe it's me who's overconfident at my own temporary functionality with the lack or sleep, or maybe I don't take things like this seriously, or both( most likely) but fact is, in the end I woke up late. I didn't go down without a fight nonetheless, kinda came up with a justification without much sense of guilt
as shown in this older post.
That day I was supposed to meet them at 10 at Boon Lay
Mrt
. That night before I tried to sleep at
2
, finally gone to bed at
3
, twisted and turned till
4
, finally got up at
4.30
and after a sweet word of advice from my cousin to drink some milk I've finally knocked out at
5
. Set alarm at
9
am, woke up at
9.20
am, snoozed to
9.45
and woke up at
11.30am
. The rest is history.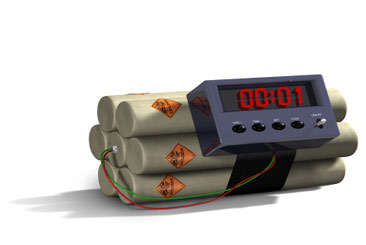 Maybe it's about time to take Time seriously
Then, still having not learnt anything right from that, a few days later it went one step further. I was to meet a friend in the morning at 9am( then go to school do more group projects till sunset), and on that night, I tried Sleeping™ but successfully got interrupted of my sleep by the combination of a active mind and a restless body. Lied down, got back up to check email. Lied down, got back up to check school mail. Lied down, got back up to check soccer updates. In the end, with the sunlight shining through my windows, I've finally concluded there's no point lying down anymore, I might as well just stay awake for 2 days straight.
Sure enough there's no immediate harm as it was planned out well enough.
I got home and planned to sleep ASAP. My ASAP wasn't really a ASAP anymore by the time I slept, and the following day I had to meet up with my group again at 11am. I bought some sleeping time by making up logical excuses by telling them I have some personal stuff to do ( I actually did, but it wouldn't take 2 hours to do that) but even so, I've finally met up with them at 2pm. Felt
abit
bad,
erm
, shouldn't I?
Is it my name only, or is it also me who is upside down?
So you see, the point is after what I've gone through in the past half a week, I've came to believe that sleeping at regular hours isn't a must. All we need to do is just to
achieve
that average amount of sleep per day and we'll be quite okay.
Sleeping is pretty much like a reservoir , the flow doesn't have to be all that constant , as long as the water in it is sufficient for it's purpose.
Sleeping is quite like a reservoir
They sure are some bad side effects when the sleeping pattern isn't consistant in a 24-hour basis, but I believe as much as that's true, it is actually balanced out by some unheard-of positive side effects too waiting to be uncovered.
Or so he thinks.
Perhaps one day when some researchs finally proved what I've just said, then perhaps you will take this more seriously.
The end.


. . .

Disclaimer Again- This entry is

solely

for entertainment purposes only. I will not take any blame for anything to do with anything that has got anything to even have anything to do with this entry.
Cheers.